[BOOK REVIEW] Crazy Rich Asians - Kevin Kwan
Title: Crazy Rich Asians
Author: Kevin Kwan
Genre: Chick Lit, Contemporary
Publisher: Doubleday
Publication Date: June 11th 2013
Pages: 403 pages
ISBN: 0385536976 (ISBN13: 9780385536974)
Format: Hardback
Start Date: July 1st 2018
Finish Date: July 6th 2018
---
(Beware of spoilers!!!!)
---
Synopsis:
Crazy Rich Asians is the outrageously funny debut novel about three super-rich, pedigreed Chinese families and the gossip, backbiting, and scheming that occurs when the heir to one of the most massive fortunes in Asia brings home his ABC (American-born Chinese) girlfriend to the wedding of the season.
When Rachel Chu agrees to spend the summer in Singapore with her boyfriend, Nicholas Young, she envisions a humble family home, long drives to explore the island, and quality time with the man she might one day marry. What she doesn't know is that Nick's family home happens to look like a palace, that she'll ride in more private planes than cars, and that with one of Asia's most eligible bachelors on her arm, Rachel might as well have a target on her back.
Initiated into a world of dynastic splendor beyond imagination, Rachel meets Astrid, the It Girl of Singapore society; Eddie, whose family practically lives in the pages of the Hong Kong socialite magazines; and Eleanor, Nick's formidable mother, a woman who has very strong feelings about who her son should--and should not--marry. Uproarious, addictive, and filled with jaw-dropping opulence, Crazy Rich Asians is an insider's look at the Asian JetSet; a perfect depiction of the clash between old money and new money; between Overseas Chinese and Mainland Chinese; and a fabulous novel about what it means to be young, in love, and gloriously, crazily rich.
Crazy Rich Asians was the first book of Kevin Kwan's bestseller series. It was a story about having a relationship with a conglomerate scion. Basically this book told a story of an Asian girl named Rachel Chu which had a relationship with a wealthy man named Nicholas Young. At first, Rachel who had a relationship Nick – nickname of Nicholas – for two years, didn't know the family background of him. They met in America due to their job as lecturers which then fell in love and live together.

One day, Nick should attend his best friend wedding as a best man. So, he decided to take Rachel in hoping to have a wonderful vacation with her while attending his best friend's wedding in Singapore. Unexpectedly, Rachel realized who Nick really was and she got a bit shocked with the family culture that surrounding Nick. So all of the conflict began after Rachel met the Young's big families and friends. As a whole, this book was not told in Rachel and Nick point of view only. But there were other characters as well. There were Astrid and her husband point of view, Nick's mother, and other crucial family members.

---
(Ratings are my subjective opinions and they are based on what I like and what I don't like)*
World Building: 1 [star rating="1" max="1"] star
If you want to know how high class Singaporean lives, you should read this book. Kevin Kwan clearly described how all of those conglomerates relate to the others which were above or below them. I was amazed on how detail Mr. Kwan's portrait Singaporean with their spotlight. I could easily see how money come and go in those wealthy families. I also realized that it was possible for them to travel from one country to another was just like in one or two hours driving by car. Even I know how designer's brand was cheap to them. These conglomerates did not only live in money and lifestyle, but they lived in a power of a country.
Plot: 0.5 [star rating="0.5" max="1"] star
I was not a big fan of contemporary books anymore (I used to when I was in my senior high school), but this one was an exception. At first I thought the plot would be flat same as those similar theme books. After several pages, I kept saying "oooohhhh" and "aaahhh" until the end of story. There were some predictable parts which were realistic. But somehow a bit boring in the middle (this book has 500 pages long in its translated version with tiny font size!!!). I also felt like the climax had a forced ending. Aside of that, I still like this book because it was very funny. I could not stop laughing.
Character: 0.5 [star rating="0.5" max="1"] star
Crazy Rich Asians had it owned family hierarchy. It did not consist of one family pattern but more!!! I was bad with names even in reality so I found confusing with names in this book. Even until now I did not remember well their names only the main characters and the supporting roles which always showed up. As for the main characters itself, I LOVE THEM SOOOO MMUUCCCHH, especially Nick (I was weak with gentle man) :-*. Ahhh, the movie, please come faster :-D.
Writing-style: 1 [star rating="1" max="1"] star
The version of the book that I read was its translated one. But, I did a short reading of the original version in English. I should say that it had good style. The original one had flowing with conversations and the translated version did not fail to portrait the author's taste and culture. I just love both of them. Specifically, I wanted to praise the translator for making it good. Yes, there was some parts that we should read it in original version since it has "Singlish" in it that could bring us going deeper to the book, but to me the translators did their job very well.
Author & Others: 1 [star rating="1" max="1"] star
Good praise for Kevin Kwan. This was his first International bestselling books that I read. So, well done. I can't wait to read the next but I need to put aside until next month. My TBR is getting higher!!!!!!

By the way I want to give you another glimpse of the the book version. The cover shown above was the first edition in hardback. Nowadays, mass market paperback edition is sold especially in Indonesia. The cover of Mass Market Paperback is shown below.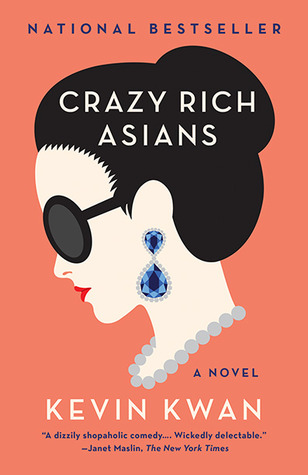 As for the translated Indonesian version (for you who lived in Indonesia), the cover and ISBN of the book is as below. I loved very much this translated version cover. Very bold and red!!
---
"Remember, every treasure comes with a price."



"Doing nothing can sometimes be the most effective form of action."



"Just because some people actually work for their money doesn't mean they are beneath you."




---
So funny!!! So funny!!! So funny!!! Even I could not believe that I could reach this 500 pages book in 6 days!!! What a progress, ekekekke. Need to watch the movie in the cinema (Ehh, bakal masuk bioskop Indonesia serempak ga ya?
Although I liked this one, but I was satisfied enough with the translated version. FYI, the cover for our Indonesian version was very simple yet gorgeous. I liked it very much than the original cover.
I will not gonna unhaul this one :-D.
Regards,
Sandrine JB
---
Source of the book cover and synopsis: Goodreads

NB: *For each category summarized that I like, I will give one star. If I don't like it, I will give no star. If I half like it, I will give half star. The total ratings will be a summed-up of the stars.