[BOOK REVIEW] The Young Elites – Marie Lu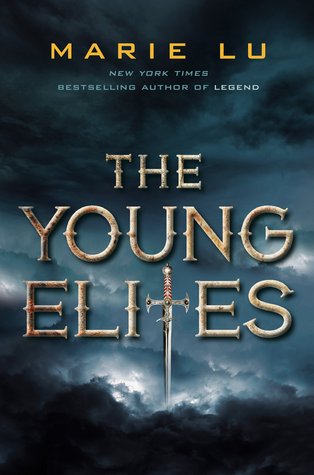 Title: The Young Elites (The Young Elites #1)
Author: Marie Lu
Genre: Young Adult, Fantasy
Publisher: G.P. Putnam's Sons Books for Young Readers
Publication Date: October 7th, 2014
Pages: 355 pages
ISBN: 0399167838 (ISBN13: 9780399167836)
Format: English version - Hardback
Start date: December 22nd, 2017
Finish date: December 31st, 2017
Where to buy: The Book Depository - Hardback or The Book Depository - Paperback
This book already has its Indonesian translation that you can find at your nearby local bookstores or any Indonesian online bookstore.


Book Synopsis:


I am tired of being used, hurt, and cast aside.

Adelina Amouteru is a survivor of the blood fever. A decade ago, the deadly illness swept through her nation. Most of the infected perished, while many of the children who survived were left with strange markings. Adelina's black hair turned silver, her lashes went pale, and now she has only a jagged scar where her left eye once was. Her cruel father believes she is a malfetto, an abomination, ruining their family's good name and standing in the way of their fortune. But some of the fever's survivors are rumored to possess more than just scars—they are believed to have mysterious and powerful gifts, and though their identities remain secret, they have come to be called the Young Elites.

Teren Santoro works for the king. As Leader of the Inquisition Axis, it is his job to seek out the Young Elites, to destroy them before they destroy the nation. He believes the Young Elites to be dangerous and vengeful, but it's Teren who may possess the darkest secret of all.

Enzo Valenciano is a member of the Dagger Society. This secret sect of Young Elites seeks out others like them before the Inquisition Axis can. But when the Daggers find Adelina, they discover someone with powers like they've never seen.

Adelina wants to believe Enzo is on her side, and that Teren is the true enemy. But the lives of these three will collide in unexpected ways, as each fights a very different and personal battle. But of one thing they are all certain: Adelina has abilities that shouldn't belong in this world. A vengeful blackness in her heart. And a desire to destroy all who dare to cross her.

It is my turn to use. My turn to hurt.


Disclaimer: This review may contain spoiler!
~ My Rating ~
[star rating="4" numeric="yes"]
~ Goodreads Rating ~
[star rating="3.93" numeric="yes"]
(77,338 Ratings)
~ Favorite Quotes ~
"It is pointless to believe what you see, if you only see what you believe."
"I am tired of being used, hurt, and cast aside. It is my turn to use. My turn to hurt."
"Don't cry. You are stronger than that."
~ My Thoughts ~
What I like about this book:


I am a cheesy romance sucker. What made me fall in love at the first place was the thing between Enzo and Adelina. A book without a little spark of romance is same as a food without salt, ekekekekekek. But after reading Warcross I'd already prepared of what Marie Lu would do with those two characters. And the result was I was not prepared enough. My heart was broken into pieces.


Damn the plot twist. I love plot twist by the way, but somehow this kind of twist was unbelievable. How could you do that to me Marie Lu? I realized that there will be something that made the main character would not die (or was he not the main character?) Ahahaha too many questions. I just I have to read the second book, immediately.


I always love a magic theme over a book. Magic, Fairy, and Science Fiction are and will always be my all-time favorite (of course with romance in it). The magic in this book was different with any kind of magic that we read. I love the idea that magic triggered from a plaque for those who were destined to be that strong enough. To me the idea was realistic in unrealistic world.


The conversation style was easy enough to grasp. It was very natural and flowing like we were in it (beside that this book is using 1st POV for Adelina part and 3rd POV from another characters.


What I don't like about this book:


I know this is a young adult book, but somehow a bit bothering me from the writing style of Marie Lu that it was like a bit middle grade conversation style. It is like reading teenlit stories. Well, I didn't blame her. It was just my taste that evolved to a style like a new adult style of conversation (since my age was not in the young age anymore hahahahaha).


Although I like the dust jacket so much but the unusual size of the books made it unmatched with my other books. I didn't have any other collections that match with this one (yet). Needs a lot of skill to take a good pictures from this book for me (unlike the other pro bookstagrammers, wehehehehe).


~ Conclusions ~
Those likes and dislikes above that made me gave 4 stars out of what the community hype and what it mostly gave. As the conclusions:


As a person who never re-read, I still do not know whether to re-read this one. But, probably not.


This book deserved to be collected. I was in love with the cover design. So magic and used a dark blue gradation color which was my favorite color.


I will definitely read this series until the end. I can't wait to read the second book. Psst, my second book is the signed copy version (yeayy!!). I got it in a cheap price at the Book Outlet.


All and all, this is my honest opinion only. Every person may have a different perception and taste. Maybe you have different opinions. If you would like to share feel free to leave your comment below. :)
Regards,