[BOOK REVIEW] Almost Midnight – Rainbow Rowell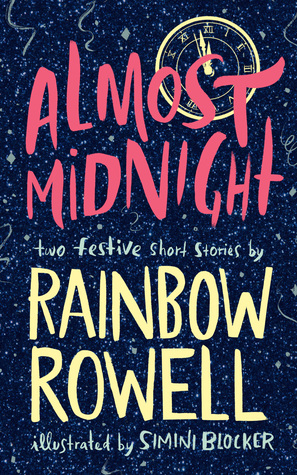 Title: Almost Midnight

Author: Rainbow Rowell

Genre: Young Adult, Contemporary, Short Stories

Publisher: Macmillan Children's Books

Publication Date: November 2nd, 2017

Pages: 144 pages

ISBN13: 9781509869947

Format: English version - Hardback

Start date: December 23rd, 2017

Finish date: December 24th, 2017

Where to buy: The Book Depository - Hardback


Book Synopsis:


Midnights is the story of Noel and Mags, who meet at the same New Year's Eve party every year and fall a little more in love each time . . .
Kindred Spirits is about Elena, who decides to queue to see the new Star Wars movie and meets Gabe, a fellow fan.
Midnights was previously published as part of the My True Love Gave to Me anthology, edited by Stephanie Perkins and Kindred Spirits was previously published as a World Book Day title.


Disclaimer: This review may contain spoiler!
~ My Rating ~
[star rating="4" numeric="yes"]
~ Goodreads Rating ~
[star rating="4.23" numeric="yes"]
(2,606 Ratings)
~ Favorite Quotes ~
"The whole world is dancing with you."
"And it's okay. Just... I need you to take me with you."
"If you like someone, you should have to make an effort."

~ My Thoughts ~
What I like about this book:


Can you not see the beautiful cover? It is amazinggggg. I love the cover design. I love the glittery part. And I live the combination of dark Blue and pink color of it. This was my dream to be able to design a good cover but unfortunately I was not creative enough, akakakakak.


Currently (after knowing fantasy books), I am not into contemporary books. I am just got bored easily. So it was good for me to read contemporary in short story version. So it was straight to the climax without too much drama. But I am pretty sure that due to this book I will read contemporary books again in the future (not only in short stories format).


This was a very light read and a good rest after a hard, dark, long book such as Red Rising. My reading mood was back thanks to this little beautiful book along with another Mangas.


Since it was light, the conversation was also easy to grasp, very Rainbow Rowell style. I once read one of her book years ago although only for a few chapter but I liked how she wrote and suite to any range of age (starting from young adult of course).


What I don't like about this book:


I know it only contained of two short stories, but it made this book very tiny unlike other hardback books I had. I just don't really like the idea that hardback books has so many different sizes.


Well apparently I don't have any other dislikes :-D.


~ Conclusions ~
Those likes and dislikes above that made me gave 4 stars out of what the community hype and what it mostly gave. As the conclusions:


I won't re-read this book as well as any kind of book except my favorite.


This book deserved to be collected. I was in love with the cover design. So magic and used a dark blue gradation color which was my favorite color.


Although I gave this book a four-star rating, this was not categorized as my favorite. I just love the cover so much :-*.


All and all, this is my honest opinion only. Every person may have a different perception and taste. Maybe you have different opinions. If you would like to share feel free to leave your comment below. :)
I also will like to recommend the kids birthday parties Santa Fe Springs (
http://www.jumpersjungle.com/santa-fe-springs/
) if you are plenty a party for the little ones, last week I attended a party hosted by them and it was so fun.
Regards,